The Best Accessories for Electric Gates
08/13/2014
Back To Blog
Although electric residential gate openers are extremely safe today, one can never be safe enough. The main reason for installing gates is security but having an easy access to the property and fast exit during emergencies are also important. Technology comes to fill this gap along with improved and new high tech opener accessories, which can really ensure people and vehicles will move in and out conveniently and will never get trapped.
Gate accessories: Get what you need to feel safe
Let's assume that there is a fire in a building. Getting out as soon as possible is everyone's priorities. Gate intercom systems can make it easy. Personal passwords, a simple buzz to open the gate or automatic exit sensors can really save people's lives or prevent the entrance of strangers. The right access control device option will either make your life harder or easier. The choice is always determined by the needs of each property. Families have a wide option among regular gate remote systems and when it comes to large buildings and apartment complexes, digital systems are easier.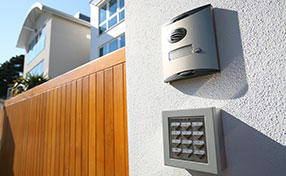 In the case of big buildings with multiple tenants, digital keypads make their life easier. Such places do not only have many people living or working in the building but also many visitors including postmen, couriers, gardeners and other people coming in on a daily basis. Temporary codes, which can be easily erased, make everybody's life more comfortable. Intercom installation is also useful when there is no visual access to the main gate entrance from the house. Colored cameras, the possibility to have two ways communication with the visitor or even be notified in your smartphone about someone being at the main entrance when you are not at home are helpful.
Surveillance cameras will not only allow you to check your visitors but also to keep track of the house's perimeter at all times. These systems can also record any activity around your home and will be one more way to reinforce security. At the same time, reinforcement of safety with sensing entrapment devices is a must. So, take care of the obvious accessories first and make sure your opener integrates reverse systems. Having a sliding gate safety sensor would make a difference when one is entrapped and must be freed.